Are you trying to buy Litecoin, in search of a Litecoin exchange, or looking to trade? If so we are going to teach you about the basics of this alt coin and how you can earn money from cryptocurrencies in general. Lets go over a little history of this awesome coin first!
What is Litecoin?
Litecoin or LTC for short is a P2P currency that is very similar to the famous Bitcoin. It is not managed by a central authority like a bank but rather an open source cryptgraphic protocol. Litecoin has adopted exciting features such as Segregated Witness and the Lightning network to enable more transactions, reduce issues, and increase security. There are practically no processing costs for using this alt coin and it completes payments 4x faster than Bitcoin does.
On October 7th, 2011, Charlie Lee whom was a former Google employee, released Litecoin as an open source client on Github. A few days later on the 13th, the official LTC network has gone live. It was a fork of the Bitcoin core with a noticeably decreased block generation time, increased coin maximum and an alternative algorithm for hashing.
The next month in November, Litecoin saw an incredible 100% jump in price within a mere 24 hours. It reached a 1$ billion market capacity that same month and its market capitalization was over $2.2 million US dollars in August of 2017. When it adopted the Lightning Network was a new feature, it transferred 0.00000001 LTC from the location of Zurich to San Francisco in less than 1 second!
Last month in September, LTC hit a record high of $92.07 per coin. This unfortunately was not long lasting as China started to crack down on regulations which made it drop down to $46 an now it's hovering around $55.00 so it's still doing very well.
Trading/Buying Litecoin
You can buy and trade Litecoin on dozens of exchanges and through various methods. One of the easiest ways to buy Litcoin is by purchasing it with Bitcoin, essentially exchanging one for another. We recommend you give Iq Option a try since they have a powerful platform and a free demo to practice on.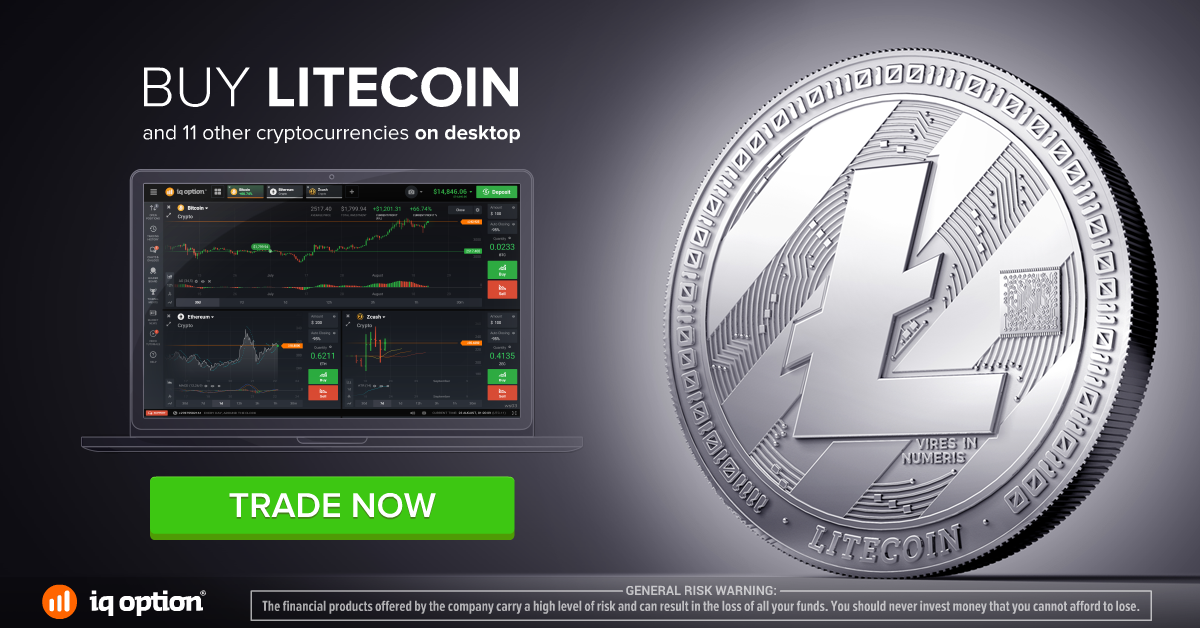 There are other websites you can use to get a Litecoin wallet like Coin Base, Jaxx, or Exodus. These are services that will help store your LTC's for safe keepings. For those that want to buy Litecoin with a credit card, Coin Base allows you to but with a limit of $500. Once you go through an identity verification process, your limit can be raised though. Another resource for buying Litecoin's with a credit card is Bitpanda through a Skrill account you can open very quickly. Finally there is Bitstamp that allows you to purchase them through USD or EUR wire transfer.
Once you have some Litecoin's, you can keep them on the exchange of your choice like Iq Option and trade them for profit or withdraw them to your wallet. You can buy Litecoins on Coinbase below:
---
Buying Litecoin's isn't overly difficult but will just require you to take some time to open a wallet and join an exchange of your choice. From there you just need to purchase them, trade them, or save them.